HAWAIIAN PIZZA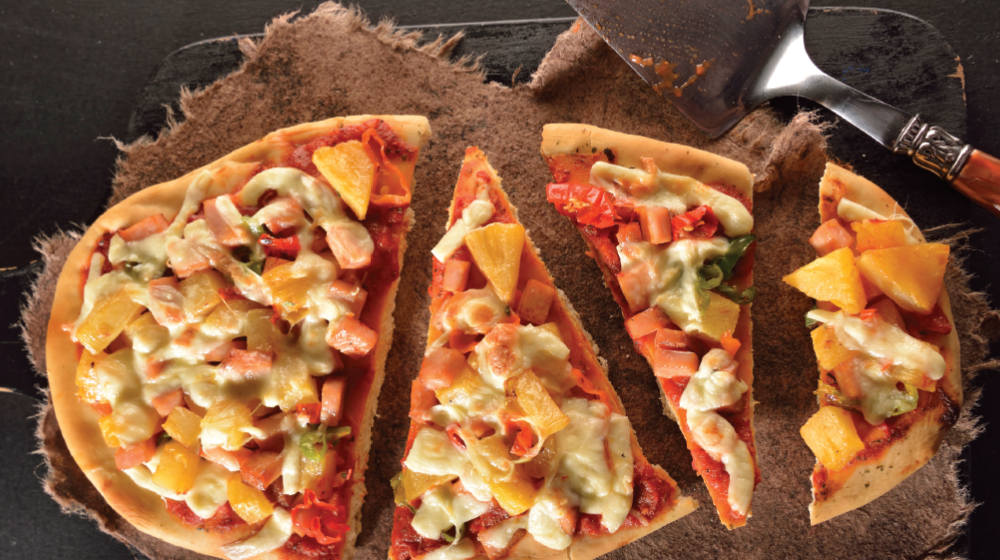 INGREDIENTS
1/2 cup of tomato sauce
1 cup of pineapple cut into small cubes
1 cup small diced ham
1 tbsp. finely chopped habanero pepper
1 tbsp. finely chopped red onion
4 tbsp. Of olive oil
1 cup of Manchego cheese
INSTRUCTIONS
Season the bases and spread the ham and pineapple over it. Sprinkle the cheese and bake for 20 minutes or until the dough is cooked.
Stir the habanero pepper in a bowl along with the red onion and olive oil. When the pizza is ready, spoon this mixture over it and bring it to the table.
MARGARITA PIZZA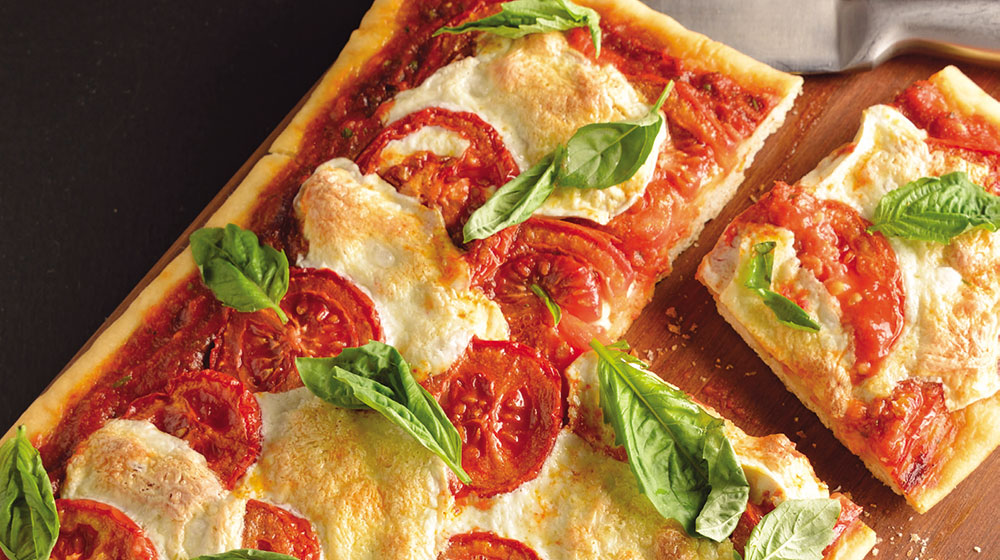 INGREDIENTS
1 pizza base
2 gourd tomatoes, thinly sliced
1 cup of basil leaves
150 g mozzarella cheese, sliced
1 chopped onion
1 tablespoon of chopped thyme
300 mL of tomato puree
1 tablespoon smoked paprika
2 tablespoons of olive oil
INSTRUCTIONS
In a large pot, fry the onion with the garlic and thyme. When it browns, add the tomato puree. Salt and pepper and cook for 25 minutes, stirring continuously. Sauté the bases and place the tomato slices with the mozzarella cheese interspersed. Add basil leaves and bake for 20 minutes or until the dough is cooked.
ITALIAN SALMON AND GOAT CHEESE PIZZA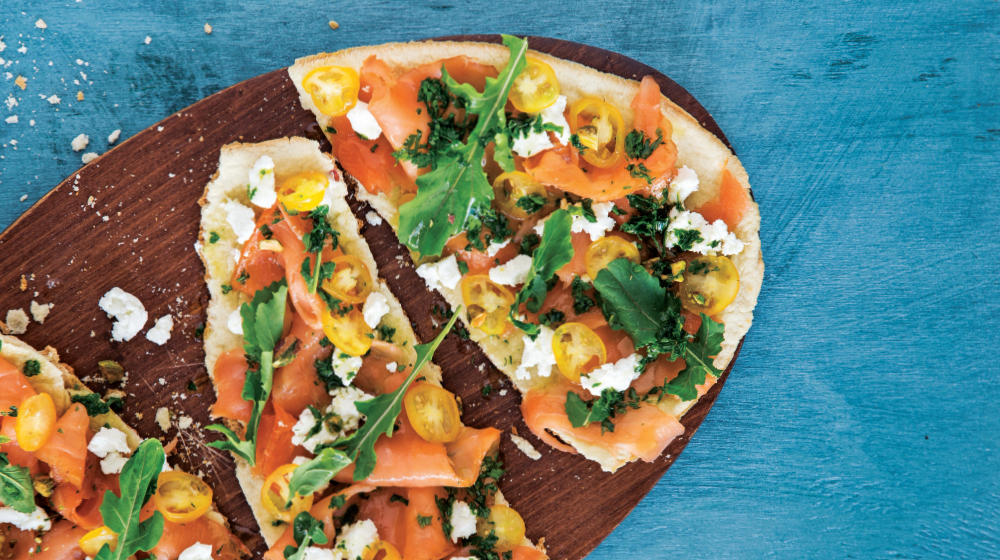 INGREDIENTS
250 g of dough (you can buy it in a bakery)
7 plum or cherry tomatoes, sliced
1 cup crumbled goat cheese
2 tbsp. Of olive oil
200 g smoked salmon, sliced
1 cup arugula leaves
Salt and pepper
1 ½ cups parsley leaves
¼ cup pine nuts, toasted
Olive oil, the necessary
INSTRUCTIONS
Spread the dough on a tray. Drizzle with a little olive oil, two-thirds of the tomatoes, salt, and pepper. Bake at 200 ° C for 15 minutes or until the dough is golden brown.
While baking, chop the parsley and pine nuts with enough oil to form a thick sauce. Salt and pepper and reserve.
Take the pizza out of the oven and add the salmon, the arugula, the herb sauce, and the remaining tomato wheels to decorate.
WEATHER:
1 hour
PORTIONS:
6 servings
GRILLED VEGETABLE PIZZA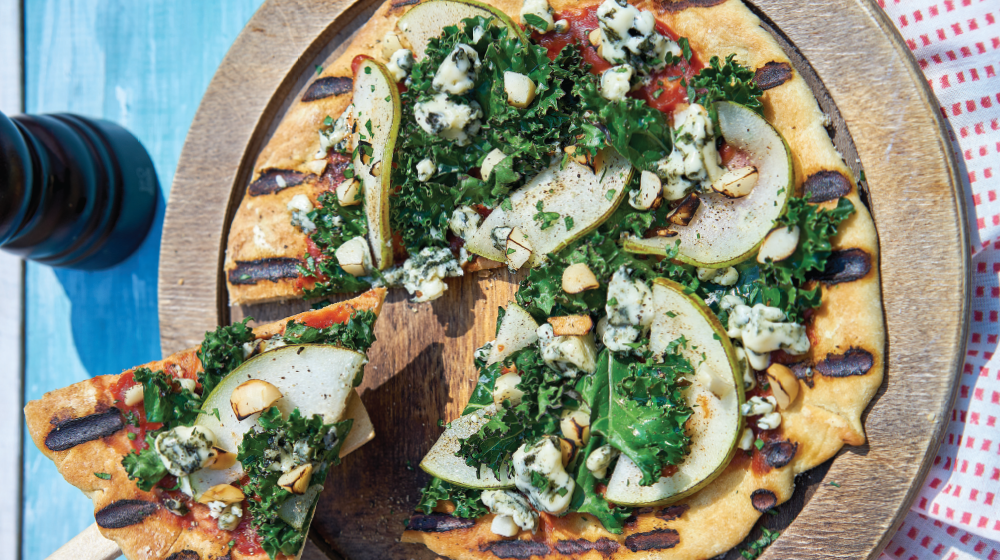 INGREDIENTS
2 cups flour
1 tbsp. of salt
1 tbsp. yeast
1 tbsp. of sugar
¼ cup olive oil
1 cup warm water
½ cup tomato puree
1 cup kale
1 green pear, sliced
½ cup blue cheese
½ cup of macadamia nut
INSTRUCTIONS
Heat the grill to medium heat. in a cup of warm water dissolve the yeast with the sugar.
Place the flour on a flat surface and make a volcano, place the salt around the edge, add the yeast dissolved in water in the center and knead until all the ingredients are united.
Add the oil and integrate. If necessary, add water until you have a smooth dough and when stretching it does not break.
Rest the dough for 30 minutes in a warm place covered with a damp cloth.
Place the flour on a flat surface and roll out the dough with the help of a rolling pin until the desired thickness is achieved.
Place the dough on a tray and add the tomato sauce in the center without reaching the edge later on the rest of the ingredients.
Place on the grill for approximately 20 minutes and serve.